NILAI-NILAI PENDIDIKAN KARAKTER TERHADAP KRAMA DESA DALAM TRADISI MUHU-MUHU DI DESA ADAT TENGANAN PEGRINGSINGAN
Kata Kunci:
Keywords: Muhu-Muhu Tradition, Education, Character Values, Village Courtesy
Abstrak
Abstract
The Muhu-Muhu tradition is one of the cleaning ceremonies and returns, all elements in Bhuana agung and Bhuana alit back to their place, which is carried out by Krama desa in the Tenganan Pegringsingan Traditional Village, which in this tradition gives deep meaning as the internalization of values ​​that shape the character of Hindu society. religious ones. The first internalization process is transformation. The transformation process is defined as a process carried out by educators to inform good and bad values. At the transformation stage in the internalization process, educators do it through verbal communication. This value transformation process is only the transfer of knowledge from educators to students. The value transaction stage is the second process, in the stage of the process of internalizing character values ​​to students, namely Krama Desa in including ethical values ​​in maintaining a tradition it has. The actualization of character values ​​in internalization leads to ethics and morals. Every Krama Desa who is equipped in the stage of transinternalization of values ​​about the Muhu-Muhu tradition finds a truly deep understanding of the meaning of a character value, living side by side peacefully, both with fellow creatures of this nature, on a scale and niskala. The results of the process of internalizing character values ​​to Village Krama in the Muhu-Muhu tradition include religious values, social values, tolerance values, discipline values, friendly/communicative values, creative values, responsibility values ​​and aesthetic values.
Keywords: Muhu-Muhu Tradition, Education, Character Values, Village Courtesy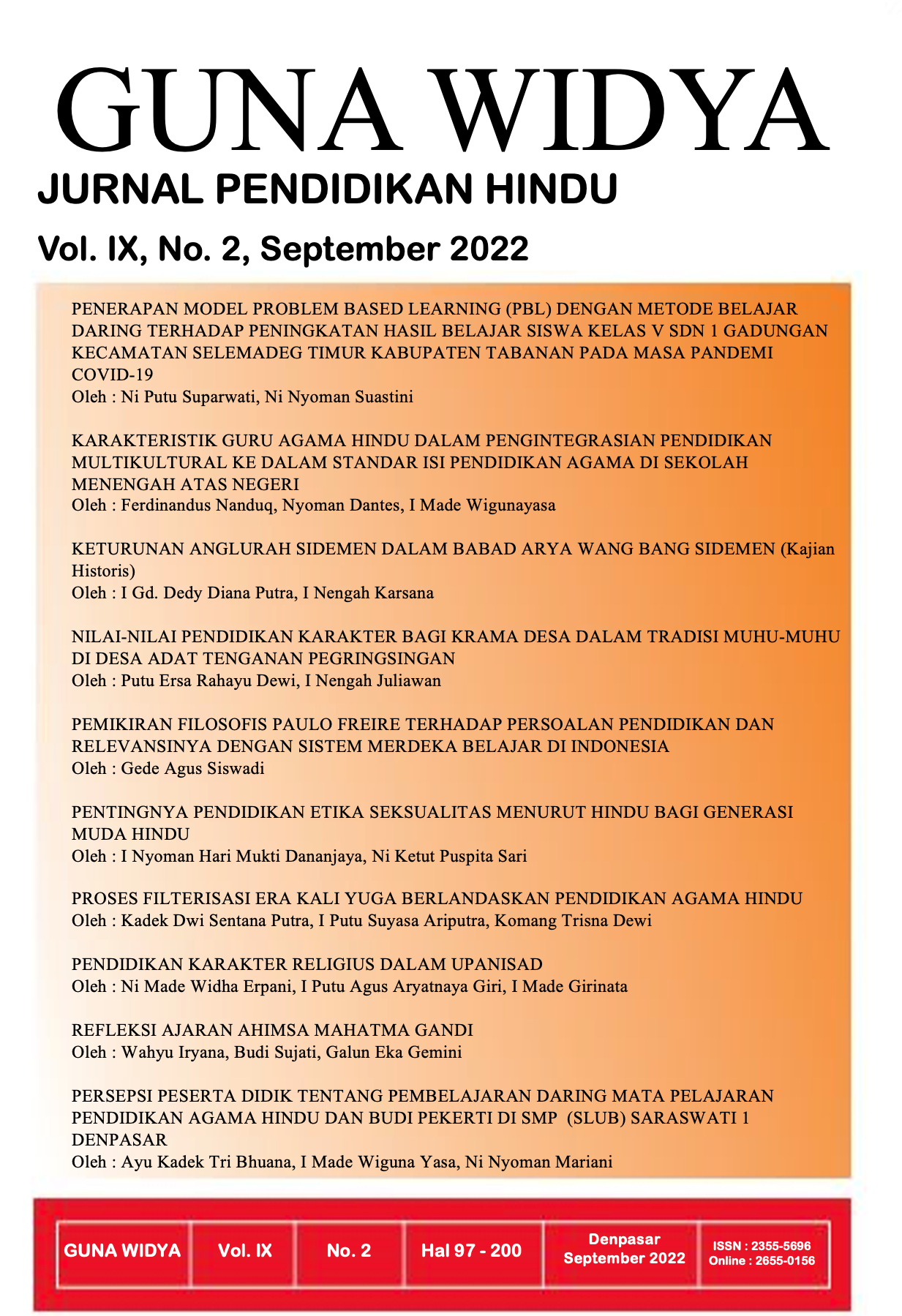 Unduhan
Diterbitkan
2022-09-01 — Diperbaharui pada 2022-09-01