DAMPAK BULLYING TERHADAP PSIKOSOSIAL ANAK USIA DINI
Keywords:
Bullying, Psikososial , Anak Usia Dini
Abstract
This study aims to determine the impact of bullying on children's psychosocial and provide education to parents about the risk of bullying for children's psychosocial development. This research used a qualitative method with a case study approach that is carried out in Tanjung Gelumpang Village, Kab. Aceh Tamiang. The subjects used were two children using interview and observation data collection techniques and then analyzed using the Milles and Huberman model consisting of data reduction, data presentation and conclusion drawing. The results showed that the impact of bullying caused the inhibition of children's psychosocial development such as the development of a child's guilt in doing anything, and having an attitude of not being able to realize the desires to be achieved, children not daring to adapt to their environment and not showing a sense of concern for others.
References
Alsaker, F. D., & Valkanover, S. 2012. The Bernese Program against Victimization in Kindergarten and Elementary School. New Directions for Youth Development, 2012(133), 15–28. https://doi.org/10.1002/yd.20004.
Amini, Mukti. 2014. Hakikat Anak Usia Dini. Perkembangan dan Konsep Dasar Pengembangan Anak Usia Dini: 65.
Arumsari, and Adiyanti. 2013. Meningkatkan Keterampilan Guru Menangani Bullying: Metode Support Group. (etd.repository.ugm.ac.id).
Arya, Luthfi. 2015. Melawan Bullying Menggagas Kurikulum Anti Bullying Di Sekolah. bandung.
Astuti, RETNO PONNY. 2008. Tiga Cara Meredam Bullying. 1st ed. JAKARTA: pt gramedia widasarana indonesia.
Bahri, Husnul. 2011. Tumbuh Kembang Dan Kompetensi Pendidikan Anak Usia Dini. bengkulu: penerbit panda.
Davit setiawan. 2014. Rupanya Kasus Bully Sudah Ada Sejak Di Pendidikan Usia Dini. Kpai.go.id.
Dey Putri, Lidia Anjelina, Elindra Yetti, and Sofia Hartati. 2020. Pengaruh Keterlibatan Orangtua Dan Regulasi Diri Terhadap Perilaku Bullying Anak Usia Dini. Jurnal Obsesi : Jurnal Pendidikan Anak Usia Dini 4(2): 715.
Djamil, M. Nasir. 2013. Anak Bukan Untuk Dihukum. jakarta: PT sinar grafika.
Dr. Farida Nugraha, M.Hum. 2010. Metode Penelitian Kualitatuf. Jakarta: Gramedia Indonesia.
Dr. yudho bawono, S.Psi, M.Si. 2020. Psikologi Perkembangan Anak Usia Dini. yogyakarta: bintang pustaka madani.
Elliot, Michele (ed). 2008. Bullying, A Practical Uide to Coping for Schols, 3rd Edition. London: Pearson Education in Association with Kidscape.
Erfantinni, imro'atul hayyu. 2019. Psikollgi Perkembangan Anak. malang: UIN MALIKI Press.
Erikson, Erik. 2010. Teori Perkembangan Sosial. JAKARTA: pt gramedia widasarana indonesia.
Horne, M. A., Bartolomucci, C. L., & Carlson, D. N. 2004. Elementary School Bully Buster Program: Understanding Why Children Bullying and What To Do About It. In A. Espelage, D. L., B. Swearer, S. M (Eds). Bullying in America Schools: A Social Ecological Perspective on Pervention and Intervention (Pp. 297-325).
Jahja, Yudrik. 2011. Psikologi Perkembangan. jakarta.
Mahriza, Rita, Meutia Rahmah, and Nani Endri Santi. 2020. Stop Bullying: Analisis Kesadaran Dan Tindakan Preventif Guru Pada Anak Pra Sekolah. Jurnal Obsesi : Jurnal Pendidikan Anak Usia Dini 5(1): 891–99.
Prawesti, Angraini. 2014. Celebrate Your Weirdness Pisoteens: Pisitive Teens Agaginst Bullying. jakarta: PT gramedia.
Priyatna, Andi. 2010. Lets End Bullying Memahami Mencegah Dan Mengatasi Bullying. jakarta.
Putri, Dewi Aru, and Widhiyanti Metra. 2016. Media Anti Bullying: Pembimbingan Anak Usia Dini Pada Taman Kanak Di Kota Singaraja." p-issn: 1410-4369, Vol 5, No 1, bulan%0AJanuari.
Sejiwa. 2008. Bullying Mengatasi Kekerasan Di Sekolah Dan Lingkungan Sekitar Anak. jakarta.: Grasindo
Siswati, & Widayanti, C. G. 2009. Fenomena Bullying Di Sekolah Dasar Di Semarang: Sebuah Studi Deskriptif. Jurnal Psikologi Undip, 5 (2).
Susanto, Ahmad. 2016. Dasar-Dasar Pendidikan TK. bandung: PT gramedia indonesia.
Suyadi. 2015. Teori Pembelajaran Anak Usia Dini. bandung.
Thahir, Andi. 2018. Psikologi Perkembangan.
Tiara, Eriqa Pratiwi dan Dinda Rizki. 2021. Jea (Jurnal Edukasi Aud) Pendidikan Islam Anak Usia Dini Universitas Islam Negeri Antasari Banjarmasin. Jurnal Edukasi AUD 6(1): 44–57.
Umanailo, M. C. B. 2019. Max Weber. https://doi.org/10.31219/osf.io/ep7bn.
Wijayani, Novan. 2012. Save Our Children from School Bullying. 2nd ed. jogjakarta: ar-ruzz media.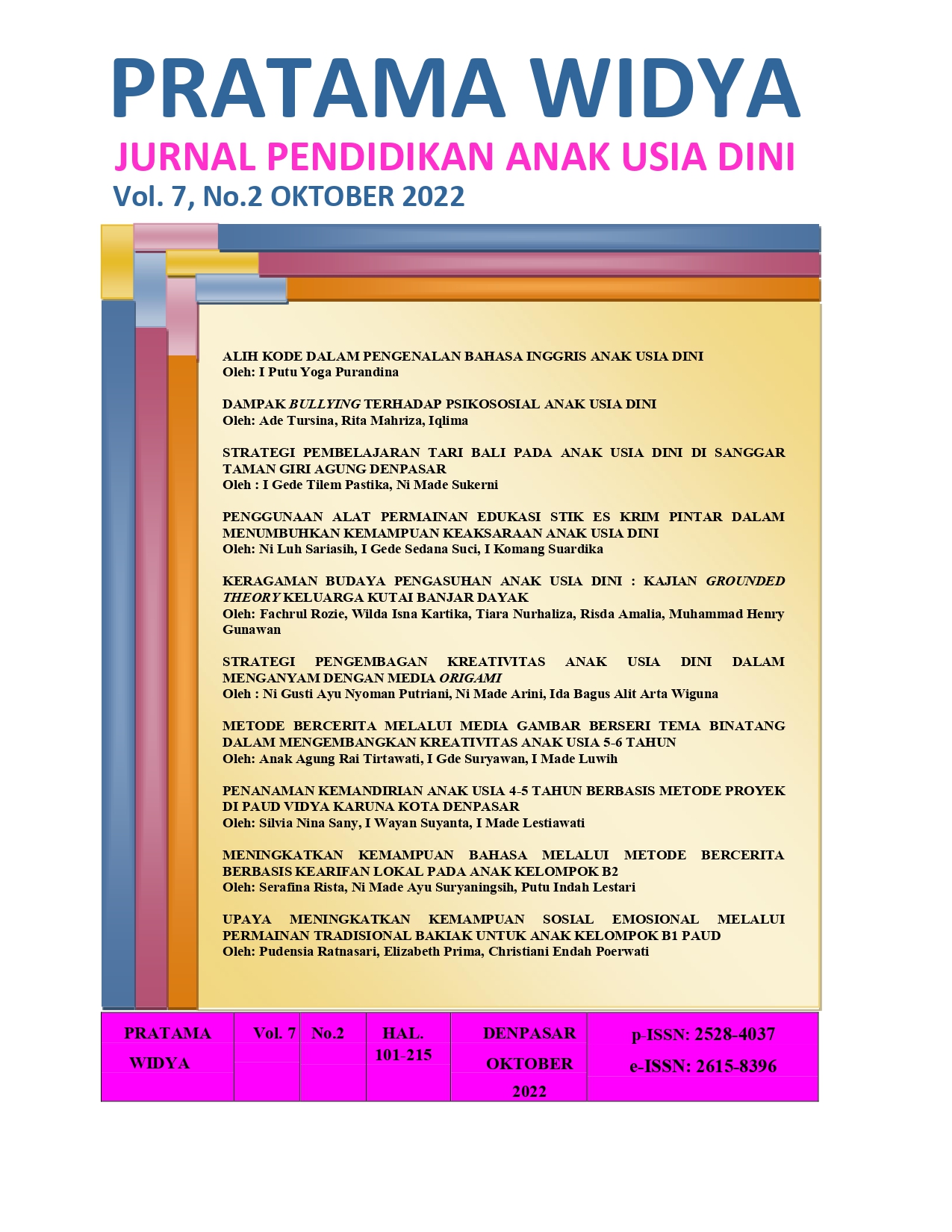 Downloads
How to Cite
Ade Tursina, Mahriza, R. ., & Iqlima. (2022). DAMPAK BULLYING TERHADAP PSIKOSOSIAL ANAK USIA DINI. Pratama Widya: Jurnal Pendidikan Anak Usia Dini, 7(2), 115–123. https://doi.org/10.25078/pw.v7i2.1563
License
Copyright (c) 2022 Ade Tursina, Rita Mahriza, Iqlima
This work is licensed under a Creative Commons Attribution-NonCommercial-ShareAlike 4.0 International License.

Abstract viewed = 161 times