ALIH KODE DALAM PENGENALAN BAHASA INGGRIS ANAK USIA DINI
Keywords:
Code-switching, introduction to english, early childhood
Abstract
This study aims to determine the use of code-switching in the introduction of English in TK and KB Swasti Karya, Megati Village, Tabanan Regency, Bali. The factors causing the use of code-switching are also one of the aim in this research. This research is a qualitative descriptive study in which the researcher analyzes the speech of teachers and children in the introduction to English class in TK and KB Swasti Karya. There are 4 teachers and 59 children are divided into TK and KB groups. The instrument used is a list of observation guidelines, interviews, and documentation. An in-depth analysis was carried out on the utterances using the code-switching theory by Poplack (2001). The results of this study found 18 utterances indicated code-switching. A total of 7 utterances are categorized in insertion (intra-sentential code-switching), and 11 utterances are categorized in alternation (inter-sentential code-switching). Meanwhile, the category of congruent lexicalization was not found in this study. Then the factors that influence the use of this code-switching are (1) to convey meaning effectively when facing difficulties in conveying meaning, (2) making communication more inclusive or closer to certain students/groups/etc, (3) improve students' understanding when they have not achieved the learning objectives, (4) to convey meaning or understanding contextually, (5) for meaning or understanding, (6) helping to help learners of English as a Foreign Language for bilingual children.
References
Almeida, F., Superior, I., Gaya, P., Queirós, A., & Faria, D. (2017). Strengths and Limitations of Qualitative and Quantitative Research Methods Innovation and Entrepreneurship View project Observatory of Portuguese Academic Spin-offs View project European Journal
of Education Studies STRENGTHS AND LIMITATIONS OF QUALITATIV. 369–387. https://doi.org/10.5281/zenodo.887089
Anggini, N., Afifah, N. Y., & Syaputra, E. (2022). Pengaruh Bahasa Gaul (SLANG) Terhadap Bahasa Indonesia Pada Generasi Muda. Jurnal Multidisiplin Dehasen …, 1(3), 143–148. https://jurnal.unived.ac.id/index.php/mude/article/view/2477%0Ahttps://jurnal.unived.ac.id/index.php/mude/article/download/2477/1997
Annisa, A. (2020). Analisis Perkembangan Sosial Pada Anak Bilingual di Abad 21. Mitra Ash-Shibyan: Jurnal Pendidikan dan Konseling, 4(01), 31–46. https://doi.org/10.46963/mash.v4i01.223
Arnianti. (2019). Teori Perkembangan Bahasa. PENSA : Jurnal Pendidikan dan Ilmu Sosial, 1(1), 139–152.
Ayu, M., Sari, F. M., & Muhaqiqin, M. (2021). Pelatihan guru dalam penggunaan website grammar sebagai media pembelajaran selama pandemi. Al-Mu'awanah: Jurnal pengabdian kepada masyarakat, 2(1), 49–55.
Bhatti, A., Shamsudin, S., & Said, S. B. M. (2018). Code-Switching: A Useful Foreign Language Teaching Tool in EFL Classrooms. English Language Teaching, 11(6), 93. https://doi.org/10.5539/elt.v11n6p93
Connelly, L. M. (2016). Trustworthiness in qualitative research. MedSurg Nursing, 25(6), 435+.
Deuchar, M. (2020). Code-switching in linguistics: A position paper. Languages, 5(2), 1–19. https://doi.org/10.3390/languages5020022
Dewi, N. W. R., & Purandina, I. P. Y. (2022). Peran Lingkungan Keluarga Dalam Perkembangan Bahasa Anak Selama Pandemi Covid-19. Jurnal Smart PAUD, 5(2), 99–106.
Diniyah, F. (2017). Persepsi Orang Tua dan Guru Mengenai Bahasa Inggris pada Anak Usia Dini di TK ABA Karangmalang Yogyakarta. Jurnal Tarbiyah : Jurnal Ilmiah Kependidikan, 6(2), 29–39. https://doi.org/10.18592/tarbiyah.v6i2.1594
Fitriyani, I. D. (2013). Code-switching used by students. Journal of Language and Literature, VIII(October), 55–62.
Flick, U. (2018). Triangulation in Data Collection. SAGE Research Methods. https://doi.org/https://dx.doi.org/10.4135/9781526416070.n34
Giyoto. (2022). Metode Pembelajaran Bahasa Asing (TEFL, BIPA, Bahasa Arab, Cina, Jerman, dan Bahasa lainnya) (Nomor June). Gerbang Media Aksara.
Hidayati, N. N. (2020). Bilingualisme dan Multilingualisme: Pro dan Kontra pada Perkembangan Bahasa dan Kognitif Anak | Al Hikmah: Jurnal Studi Keislaman. AL HIKMAH Jurnal Studi Keislaman, 10(0356), 91–104. http://ejournal.kopertais4.or.id/pantura/index.php/alhikmah/article/view/3492
Horasan, S. (2014). Code-switching in EFL classrooms and the perceptions of the students and teachers. Journal of Language and Linguistic Studies, 10(1), 31–45. www.jlls.org
Juliari, I. G. A. I. T., & Purandina, I. P. Y. (2021). implementasi Video Pembelajaran Dalam Pengenalan Kosa Kata Bahasa Inggris Siswa TK DWIJENDRA Denpasar Di Masa Pandemi COVID-19. Widya Kumara: Jurnal Pendidikan Anak Usia Dini, 2(1).
Kartikasari, R. D. (2019). Penggunaan Bilingualisme pada Masyarakat Yang Berwirausaha. Pena Literasi, 2(1), 47. https://doi.org/10.24853/pl.2.1.47-54
King, K., & Fogle, L. (2006). Bilingual Parenting as Good Parenting: Parents' Perspectives on Family Language Policy for Additive Bilingualism. International Journal of Bilingual Education and Bilingualism, 9(6), 695–712. https://doi.org/10.2167/beb362.0
Loewen, S., & Sato, M. (2018). Interaction and instructed second language acquisition. Language Teaching, 51(3), 285–329. https://doi.org/10.1017/S0261444818000125
Mekheimr, M. A. (2022). The Role of Code-Switching in Moulding EFL College Students ' Attitudes towards and Motivations for EFL Learning. BSU Journal of Pedagogy and Curriculum, 1(1), 25–36.
Miles, M. B., & Huberman, A. M. (1994). Qualitative Data Analysis: An Expanded Sourcebook (2 ed.). SAGE Publications Inc. https://books.google.co.id/books?id=U4lU_-wJ5QEC&printsec=frontcover&dq=sugiyono+2019+penelitian&hl=en&sa=X&ved=2ahUKEwjG56nQgpPsAhWzkOYKHaOaBkUQ6AEwA3oECAMQAg#v=onepage&q&f=false
Nelson, C., Krzysik, I., Lewandowska, H., & Wrembel, M. (2021). Multilingual learners' perceptions of cross-linguistic distances: a proposal for a visual psychotypological measure. Language Awareness, 30(2), 176–194. https://doi.org/10.1080/09658416.2021.1897132
Ninsi, R. A., & Rahim, R. A. (2020). Alih Kode dan Campur Kode pada Peristiwa Tutur Guru dan Siswa Kelas X SMA Insan Cendekia Syech Yusuf Riska. Jurnal Idiomatik, 03(01), 35–46.
Paradis, J. (2019). English second language acquisition from early childhood to adulthood: The role of age, first Language, cognitive, and input factors. Proceedings of the 43rd Boston University Conference on Language Development, 11–26. https://www.ualberta.ca/linguistics/cheslce
Poplack, S. (2001). Code-switching (Linguistic). In International Encyclopedia of the Social and Behavioral Sciences (hal. 2062–65). Elsevier Science Ltd Amsterdam.
Purandina, I. P. Y. (2022). Kecemasan Berbahasa Asing Anak Sekolah Dasar Dalam Pembelajaran Bahasa Inggris. 3(1), 27–36.
Purandina, I. P. Y., Dewi, R. S. I., Mahirah, R., Laela, N. A., Kurnia, Yuniarty, N., Satrio BS, S. B., Hasriani G, H. G., Risan, R., Ningsih, W., Uran, S. I. G., Kurniawan, A., Sari, D. M. M., Ramli, Hasyim, F., Puspita, N., & Pasaribu, W. (2022). Essential English for EFL Students. PT. Golbal Eksekutif Teknologi.
Purandina, I. P. Y., Sutrisna, G., & Sudarmawan, I. P. G. (2021). An Analysis of Students' Perception on Code Mixing Used in ELT: A Case Study at Dwijendra. WIDYA ACCARYA: Jurnal Kajian Pendidikan FKIP Universitas Dwijendra, 12(1), 98–107.
Purandina, I. P. Y., & Wedananta, K. A. (2021). Spirit of Balinese Local Heroes Transformed into Puppets Show on YouTube as ELT Media for Building Students' Character. Jurnal Pendidikan dan Pengajaran, 54(1), 80. https://doi.org/10.23887/jpp.v54i1.33001
Putri, S. N. (2015). ANALISIS ALIH KODE PADA BAHASA GURU DALAM KEGIATAN PEMBELAJARAN DI KELAS BILINGUAL. 265–269.
Sudarsono, S. (2021). Code-Switching: Study on the Speech of Indonesian Javanese Educated Bilinguals. Lire Journal (Journal of Linguistics and Literature), 5(2), 214–232. https://doi.org/10.33019/lire.v5i2.130
Sugiyono. (2019). Metode Penelitian Kualitatif. Afabeta.
Sumaryanti, L. (2017). PERAN LINGKUNGAN TERHADAP PERKEMBANGAN BAHASA ANAK. JMuaddib: Studi Kependidikan dan Keislaman, 7(1), 72–89. https://pesquisa.bvsalud.org/portal/resource/en/mdl-20203177951%0Ahttp://dx.doi.org/10.1038/s41562-020-0887-9%0Ahttp://dx.doi.org/10.1038/s41562-020-0884-z%0Ahttps://doi.org/10.1080/13669877.2020.1758193%0Ahttp://sersc.org/journals/index.php/IJAST/article
Üstünel, E. (2016). EFL classroom code-switching. Palgrave Macmillan.
Wedananta, K. A. (2020). Code-switching as a translanguaging to transfer cross-cultural understanding in English classroom: teachers' perception. International journal of linguistics, literature and culture, 6(1), 70–78. https://doi.org/10.21744/ijllc.v6n1.845
Westhisi, S. M. (2019). Metode Fonik Dalam Pembelajaran Membaca Permulaan Bahasa Inggris Anak Usia Dini. Jurnal Tunas Siliwangi, 5(1), 23–37.
Wicaksono, L. (2016). Bahasa dalam komunikasi pembelajaran. Jurnal Pembelajaran Prospektif, 1(2), 9–19. http://jurnal.untan.ac.id/index.php/lp3m%0Ahttp://jurnal.untan.ac.id/index.php/lp3m/article/download/19211/16053
Widiyanti, R., Rasyid, Y., & Darmahusni, D. (2018). The Use of English Introduction Language in Learning in Montessori Indonesia Preschool. Ijlecr - International Journal of Language Education and Culture Review, 4(2), 168–171. https://doi.org/10.21009/ijlecr.042.21
Wiguna, P. A. S., & Adriyanti, K. Y. (2022). ENGLISH TEACHERS' PERCEPTION AND STRATEGIES TOWARDSTHE USE OF CODE-SWITCHING IN TEACHINGEFL YOUNG LEARNERS. Journal of Teaching and Education, 4(1), 25–39.
Wiranto, R. (2022). ANALISIS ALIH KODE DAN CAMPUR KODE DALAM PEMBELAJARANBAHASA ARAB DI SMA IT NURUL ILMI KELAS X. AD-DHUHA : Jurnal Pendidikan Bahasa Arab dan Budaya Islam, 3(1), 10–21.
Yao, M. (2011). On Attitudes to Teachers' Code-switching in EFL Classes. World Journal of English Language, 1(1). https://doi.org/10.5430/wjel.v1n1p19
Yusuf, Q., Asyik, A. G., Yusuf, Y. Q., & Rusdi, L. (2017). Listen, do, repeat, understand and remember: Teaching English to very young children in Aceh. Iranian Journal of Language Teaching Research, 5(2), 113–132.
Yusuf, R. (2020). Teaching EFL Students Using Selected Media: Offline Video Taken From YouTube. Utamax : Journal of Ultimate Research and Trends in Education, 2(1), 29–33. https://doi.org/10.31849/UTAMAX.V2I1.2909
Yusuf, Y. Q., Fata, I. A., & Chyntia. (2020). Types of Indonesian-English code-switching employed in a novel. Kasetsart Journal of Social Sciences, 41(1), 208–213. https://doi.org/10.1016/j.kjss.2018.02.004
Zenitha, N. P. . (2020). an Analysis of Code Switching in Bilingual School Incommunication By Non-Native Speaker English Teacher in Bali. Jurnal Pendidikan Bahasa Inggris Indonesia, 8(1), 53–64. https://ejournal-pasca.undiksha.ac.id/index.php/jpbi/article/view/3137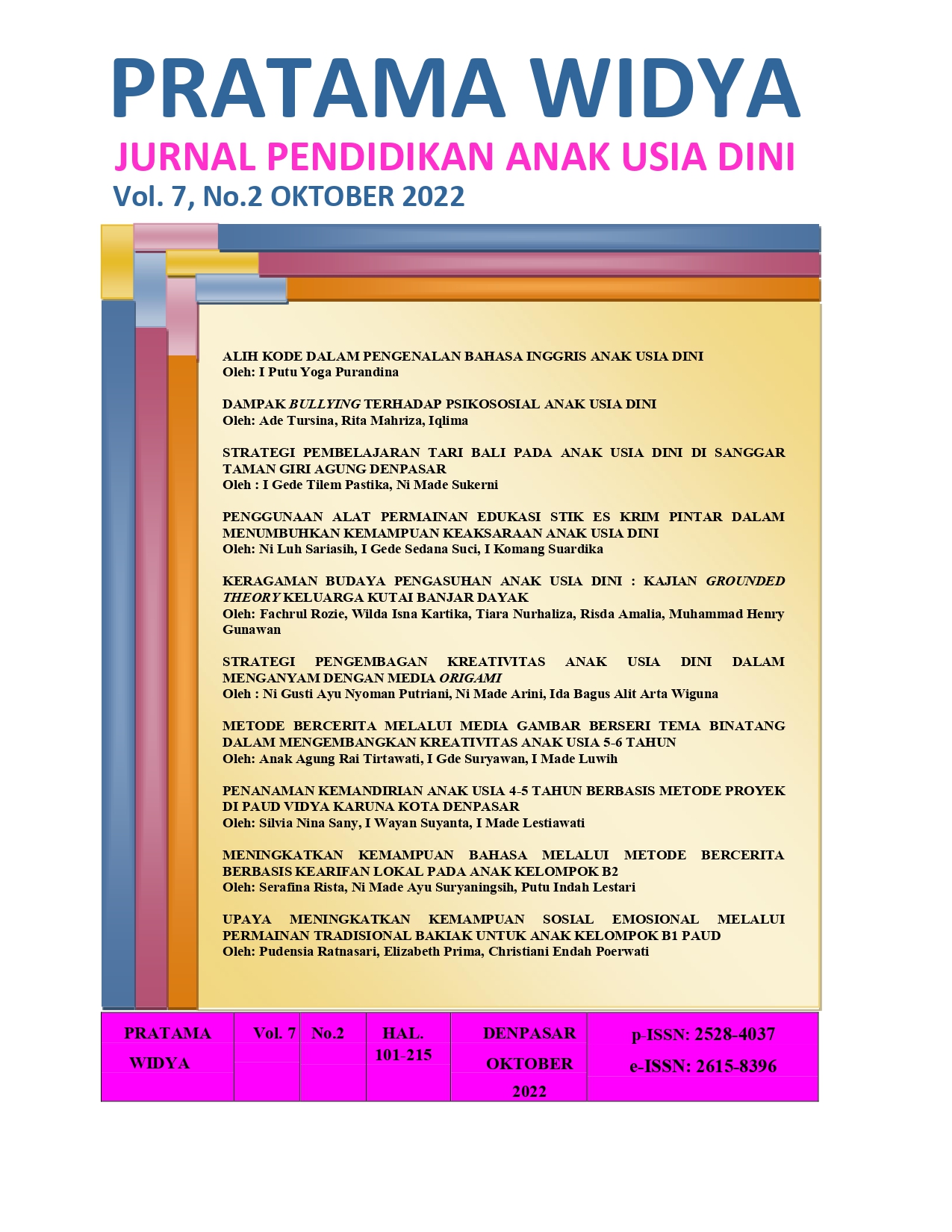 Downloads
How to Cite
Purandina, I. P. Y. (2022). ALIH KODE DALAM PENGENALAN BAHASA INGGRIS ANAK USIA DINI. Pratama Widya: Jurnal Pendidikan Anak Usia Dini, 7(2), 101–114. https://doi.org/10.25078/pw.v7i2.1703
License
Copyright (c) 2022 I Putu Yoga Purandina
This work is licensed under a Creative Commons Attribution-NonCommercial-ShareAlike 4.0 International License.